5 Ways ViewPoint Helps You Connect with Customers
10/11/2016
You can produce the greatest product. Have the coolest tech. The snazziest offices. The most knowledgeable employees. But, without customers you have no business.
They're your greatest asset.
To help you find new customers, stay in touch and better understand their needs, ViewPoint has included critical functionality in its latest release focused squarely on conveniently connecting you with your target audience.
Make it Easy for Your Customers to Reach You
ViewPoint's integrated email Contact feature allows people who are exploring your brand via your touchscreen experience to request more information or request a sales call — and do so using the presentation, not afterwards. This immediacy means your audience can provide contact information or opt in to receive your newsletter or subscribe to your blog right from the touchscreen kiosk, while your content is still top of mind. And, while they are most receptive to your message.
That's a win for both you and your customers.
The Contact function also offers you an additional benefit: ease of use. Say you're using a ViewPoint experience at a large trade show. With so many people coming in and out of your booth, leaving their business cards with individual sales reps, it can be difficult and time consuming to organize and consolidate all the information for post-event follow up.
To save you the hassle, ViewPoint's software does the work for you, spitting out a detailed report of everyone who used the kiosk to provide contact information. This way, your sales team can follow up right away, while your potential customer still remembers you and your brand.
Five Ways to Use ViewPoint's Contact Feature to Your Advantage
1. Enable a prospective customer to request contact with a sales rep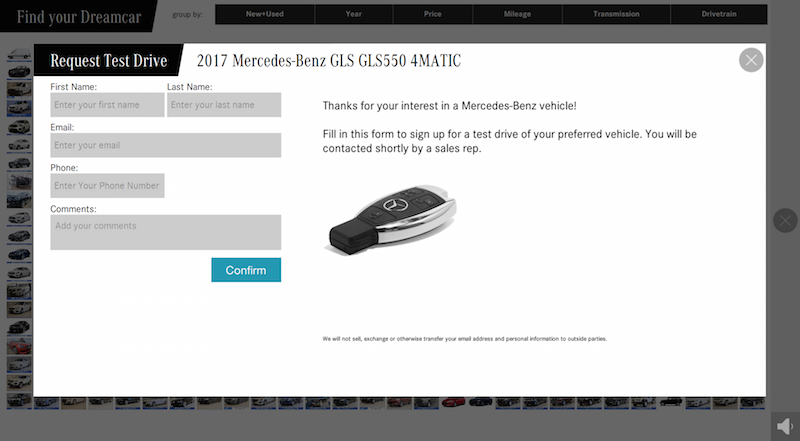 You're a car dealer with a presence in a local mall, where you have a ViewPoint kiosk. The kiosk shows your latest inventory. A potential customer notices a car she's very interested in. By entering her email address and/or phone number on ViewPoint's touchscreen she can instantly request a call, even a test drive. No need to visit the dealer showroom or call for an appointment.
You can customize the Contact function so that these email requests are delivered to a specific person in your company, to a list of people or to a customer management system for action from a sales representative.
2. Allow a customer to email to himself a document shown in a ViewPoint presentation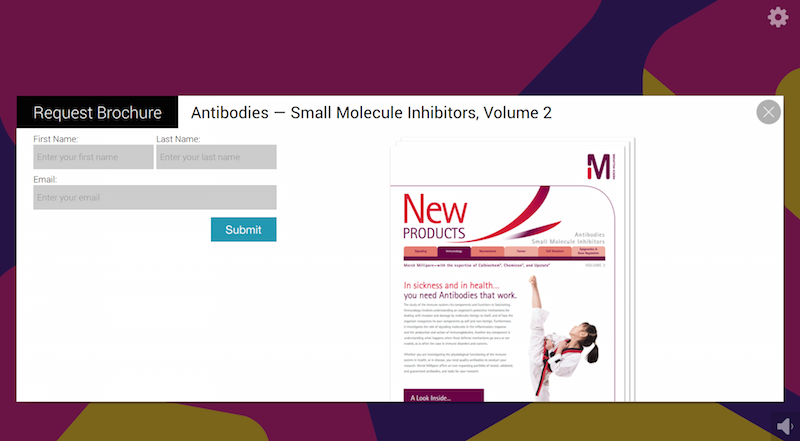 You are a medical device manufacturer exhibiting at an industry trade show. Your ViewPoint presentation showcases an exciting new product. One touchscreen features a tool that allows a booth visitor to email themselves a copy of the product spec sheet by entering an email address. You will receive an email reporting who made requests from your kiosk.
3. Expand your contact list for email newsletters and special offers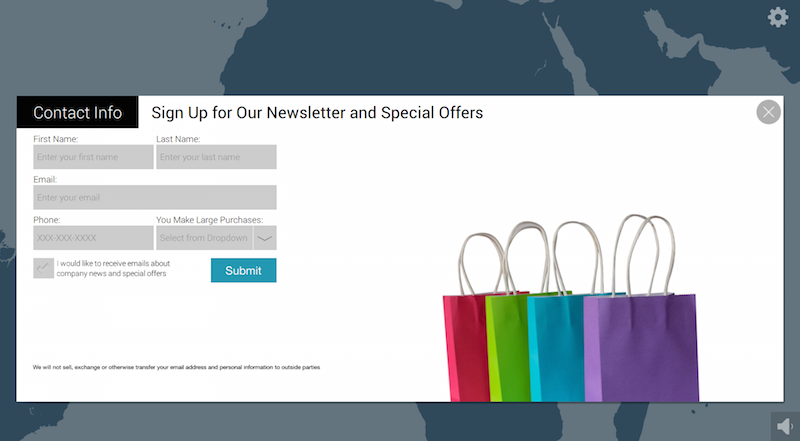 You are a retailer with a ViewPoint kiosk in your physical store. You have a monthly newsletter that you email to your customer list. In your branded ViewPoint presentation, there is a touchscreen where potential customers can enter their email addresses to opt in to your newsletter and special offers.
4. Solicit feedback from your customers while your brand is fresh in their minds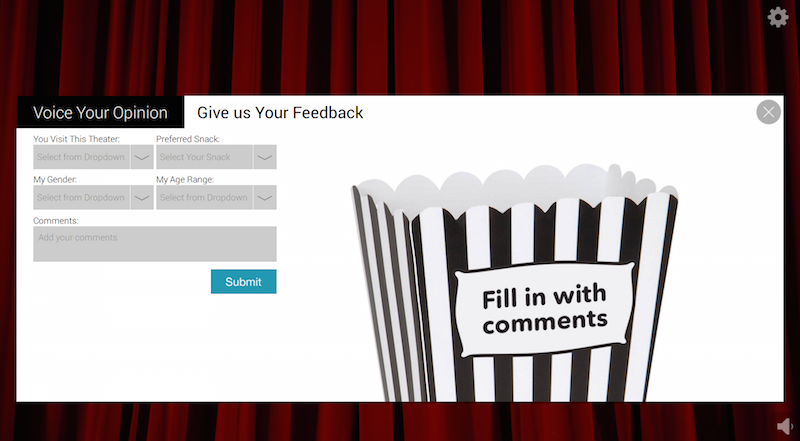 You are a large movie theater chain. In the lobbies of your theaters you have a ViewPoint kiosk that shows trailers for upcoming releases. It includes a customizable customer feedback section, which allows moviegoers to comment about their experience in your facility (anonymously or using a bona fide email address) while still in the theater.
5. Run a sweepstakes at an entertainment venue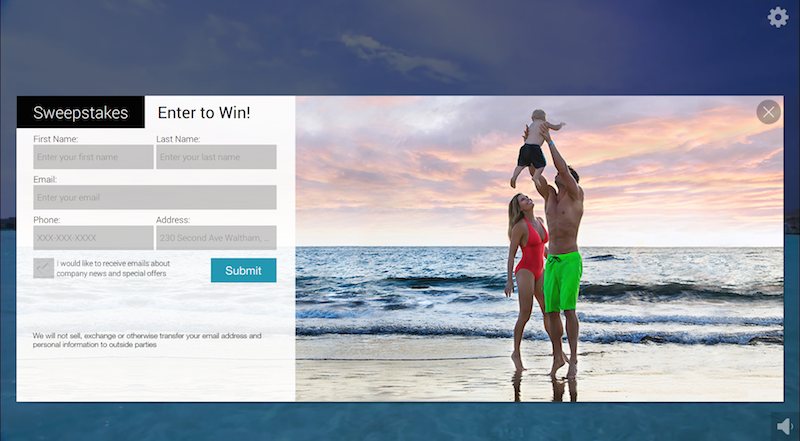 You are a corporate sponsor of an entertainment venue. You want to promote your brand and build an email list in a particular market segment by running a sweepstakes during a particular event. No need to bother with pen and paper entry forms. Event-goers can simply type their contact information into a ViewPoint touchscreen. Much more convenient than filling out a card by hand.
 ViewPoint provides convenient ways for you to reach new customers, as well as solicit their feedback. Use our Contact component to tailor your touchscreen experience to engage most effectively with your audience.